Maintenance Notes
Patch Version 0.0.30, Client Version: 10.3.1.1

Server Maintenance
2018-10-11, 3:00 Server Time (PHT)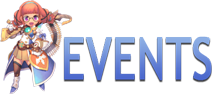 Mini Grinding Event
Get Green Gada Coins by killing monsters.You can trade these at the Vending Machine for a Parchment Wing Box or parts of the [Event] Set of Unity.
Additionally you can obtain Unity Accessory Boxes by exchanging Silver and Gada coins for it.
This event ends on October, 18th 3:00 Server Time (PHT).

Second side quest chain for Lv. 49 - The perfect Arrow
A second short side questchain called The perfect Arrow has been added to Lv. 49. It is given by NPC Gurnek at Pine Cone Hills. For a character Lv. 49 it gives 4.5% EXP in total.
General Fixes and Changes
- the new side quest line Mr. Teddy is hungry can now be remote accepted

To get you in the right mood for our upcoming Halloween event on October, 18th we already put some spooky costumes into the BigWheel and MixBoard. Enjoy!

BigWheel Halloween Mood Edition
Vegabond Costume
Skeleton Man Costume
Red Devil Costume
Piyo Raincoat
Servant of the Lord Set
Ash Mist High School Uniform (male)
Ash Mist High School Uniform (female)


MixBoard Halloween Mood Edition

Jack O'Lantern Costume [Advanced Tab]
Frankenstein Costume [Advanced Tab]
Stuffed Bear Costume [Advanced Tab]

Dracula Costume [Special Tab]
Red Dragon Ranger Costume [Special Tab]
[Best] Devil's Set (male) [Special Tab]
[Best] Devil's Set (female) [Special Tab]

Jack O'Lantern Costume (Artifact) [Deluxe Tab]
Ragged Ghost Costume [Deluxe Tab]

Weekend EXP Rates
Friday, 10/12: 2.0x
Saturday, 10/13: 2.1x
Sunday, 10/14: 2.3x