Maintenance Notes
Patch Version 0.0.29, Client Version: 10.3.1.1

Server Maintenance
2018-10-04, 3:00 Server Time (PHT)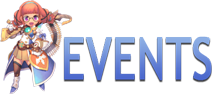 Talk like a Pirate! Day Event
"Why are pirates pirates? cuz they arrrrrr"
The event has come to an end. Captain Hookah will stay at Port of the Winds for another week to give you the opportunity to trade items with him you still have in your inventory.

Weekend EXP Rates
Friday, 10/05: 2.2x
Saturday, 10/06: 2.2x
Sunday, 10/07: 2.4x