Maintenance Notes
Patch Version 0.0.23, Client Version: 10.3.1.1

Server Maintenance
2018-09-13, 3:00 Server Time (PHT)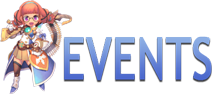 Arcadia 2 Welcome Event
- The Enchant and Soulcraft Event will end
- Collect Likes (World Drop) by killing monsters to obtain a part of the [Event] Arcadia's Set of Destiny or a New Origin Accessory Box by exchanging the likes at the Vending Machine. This even runs until September, 20th 3:00 Server Time (PHT)

Additional F7 Changes
F7 has been changed again to increase the player's interaction in this game mode

- for a party of 2 players or more there is a chance that random bombs (Rando Bomber) can appear during the monster waves in all stages beginning with stage 11. As every bomb these bombs are ignored by the Guardian Towers and need to be destroyed by player action
- at then end of every bonus stage (10, 20, 25, 30, 35, 40, 45, 50) a new big red bomb appears (Mega Bomber). This bomb is bigger in size and it's HP depends on the number of party members.
- the damage increase skill obtained from the NPC in F7 has been changed the way it does not affect the skills Diffusion Cannon (Monk), Double Shot (Priest), Random Shot (Marksman) and Helix Shot (Elementalist) for bonus monsters. Which means that it increases the damage dealt to normal monsters, but stays at 1 damage per hit for bonus monsters if these skills are activated
- the 3rd upgrade of the damage increase skill from the F7 NPC now costs 3500 points
Hero Quest EXP Adjustment Part 1
Some Hero Quests are now giving more EXP when they are completed. Please keep in mind that the percentage value of EXP written down below is only accurate when the quests are completed while the character has the level the quests are created for. While the given EXP amount for a specific quest stays the same, the percentage value is lower if characters are above the quest level due to the need of more EXP to level up.
Farrel's Diary – Second Part [40]: 10%
Fight to the Death against Drake! [40]: 15%
Rescue Merchants (2) [41]: 10%
Queen Vella's Royal Jelly [42]: 10%
Shortcutting of the Town [43]: 10%
Kill Akanai! [45]: 15%
Request of Mist Elf [45]: 15%
Last Struggle to Secure the Camp (2) [47]: 10%
For the Forest's Future (3) [47]: 10%
Counterattack like Lightning! [47]: 10%
Half Human and half Devil's Peaceful Place (2) [47]: 10%
Mutisha! [50]: 20%
Legend of Mimir [51]: 10%
Sage with Dementia Disease [52]: 10%
Ungrateful Beats (5) [52]: 10%
What are they transporting? [52]: 10%
Monkey Leader who stole the Flute [53]: 10%
Golem Pythanoth's Appearance [53]: 10%
What's the Truth behind this Girl? [55]: 10%
Defeat Donply [55]: 10%
My dearest Friend [57]: 15%
Underground Monster reveals itself [60]: 20%
Stranger's Objective [64]: 10%
My long cherished Wish [65]: 10%
Hidden Objective [67]: 5%
Top of Drakos [70]: 20%
Until the last Moment of the last Day [70]: 10%
Dark Abyss Ceremony [70]: 10%
General Fixes and Changes
- Soul Gems: a bug has been fixed that the Soul Gems did not affect min physical attack
- a bug has been fixed that some Galaxy Dungeons did not drop 8* Socket Cards
- Boost Backpack [Omega] can now be used for entering the Red Fox Delta Normal mode
- several text corrections
BigWheel
Kazeura Highschool Uniform (female)
Kazeura Highschool Uniform (male)
Tiger-Patterned Hoodie
Eurodance Popstar Outfit (male)
Sporty Popstar Outfit (female)
Set of Unity

MixBoard

[Best] Cutie Maid Uniform (male) [Advanced Tab]
[Best] Cutie Maid Uniform (female) [Advanced Tab]

Gothic Kimono Outfit (male) [Special Tab]
Gothic Kimono Outfit (female) [Special Tab]

[Best] Set of Unity [Deluxe Tab]
Fantasy Fox Costume [Deluxe Tab]
Weekend EXP Rates
Friday, 9/14: 2.1x
Saturday, 9/15: 2.2x
Sunday, 9/16: 2.3x